Public Sector, Transport & mobility urban logistics, smart cities
References/sources
References are provided regarding 3 schemes:
UBM
TRICLO'
Padova Cityporto

Examples are reported about schemes developed in Graz and Valencia
Who needs to act?
Private operators, with an agreement with city council.
Who is affected?
Private and public organizations; citizens.
Solution
Operating schemes typically revolve around some sort of 'city port' (break-in-bulk point) where cargo is broken (transferred from one mode to another).
Due to context conditions and/or regulations cargo bikes and low-impact vans (electric, methane fuelled) may prove more effective and cost-efficient.
Investment
Medium to high depending on the schemes and its scope. they include infrastructure (logistic platform, charging stations, etc.) and vehicles. 
Return of investment
The scheme may need subsidies, especially to start. It may lead to the creation of new enterprises (often in the form of delivery cooperatives). On some occasions, private operators (couriers) are getting equipped to cover the service where context conditions make it worthwhile. The level of investments varies (cargo bikes and e-vans and related infrastructure having rather different cost scales).
Return times and rate depend on the scheme
Other resources to be used
CIVITAS Insight 03 - Cleaner, safer and more efficient freight transport in cities
CIVITAS Insight 06 - Access regulations to facilitate cleaner and better transport
Policy Advice Note 05 - Logistics and freight distribution
Available tools
Operating schemes and conditions of use
Several European cities have launched cargo bike services. Below some examples are reported to illustrate different approaches and solutions.
UBM Urban Bike Messengers
UBM offers quality and environment-friendly bike delivery service with standard or cargo bikes for loads up to 100 kg.
Services: express courier (up to 5 Kg in water-proof bags on standard bikes); express courier cargo (from 5 to 100 Kg on cargo bikes); food delivery (7 days a week for food take away); store to store; store to customer
Types of deliveries: standard (4 hours from calling), fast (90 minutes from calling), urgent (45 minutes from calling) and direct (30 minutes from calling)
TRICLO'
TRICLO' offers fast, safe and environment-friendly city logistics solutions for deliveries in city centres and limited traffic areas with a fleet of standard bikes and electric pedal assisted cargo bikes complemented by hybrid, electric and methane vans for larger loads.
TRICLO' offers its clients (large scale retailers, shops, e-commerce, professionals and private customers) express courier and express courier cargo services. Launched in 2011, TRICLO' operates in several cities in the Veneto Region (Padua, Verona, Vicenza, Venezia, Treviso) and has established good relations with local authorities, which, they say, should provide good framework conditions (a city port platform accessible by trucks outside the city centre and easily operable by low-impact vehicles and a net of charging stations in the city centre for electric vehicles) to support this type of services. 
Padova Cityporto
Padova Cityporto is an environment friendly city logistics scheme established in 2004 that uses low-impact delivery vehicles (methane engines) realized by Interporto Padova (Padua's logistics operator) and aiming to rationalize city logistics, foster sustainable transport and inter-modality, reduce traffic.
The role of local public institutions: Padova Cityporto is the result of a framework agreement involving the City Council, the Province, the Chamber of Commerce, Aps (local in-house utility), Padova Interporto. 
How it works: operators (mainly couriers) deliver their freight to the Interporto Padova logistic platform and from here low-impact vehicles deliver goods in the city centre ('last mile city logistics'). The involvement of the local authority with policies addressing sustainable city logistics is essential for effective implementation and vehicles are allowed to use bus lanes and have free access to limited traffic areas 24/7.
Cargo bikes conquer Graz (Austria)! 
The cargo bikes do not produce noise, exhaust emissions or parking problems.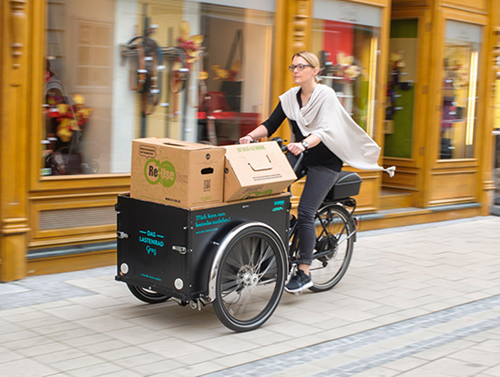 Practical, sporty and environmentally friendly. |Source: City of Graz - Foto Fischer
Since 2011, the environmental department of the City of Graz has been subsidizing the purchase of about 70 bikes with up to 1,000 euros per bike.
In the past, the car was mostly used for the transport of goods or goods were frequently delivered by foot. Nowadays the uses of the cargo bikes have increased significantly. Depending on the load-wheel type, up to 150 kg can be carried. In an average the users transport about 35 kilograms per trip.
Achieved savings: 63,000 km distance covered by bike instead of by car annually. Reduction of CO2 and NOx emissions (by about 8 t CO2, about 28 kg NOx).
New models for energy efficiency in urban freight transport in Valencia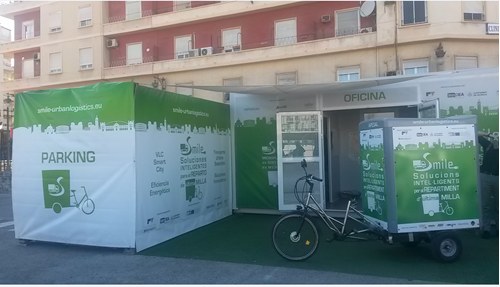 SMILE micro distribution platform in Valencia. │Source: REA Kvarner
Within the MED project "SMILE" City of Valencia was also exploring new sustainable and efficient distribution models, and trialling a new, innovative delivery system, which was operating from October 2014 to January 2015. Two electrically assisted tricycles were delivering parcels within the historical city centre. In this area, the urban distribution of goods is the most complicated link of the transport chain given the complexity of the maze-like streets, one-way system, limited access and passing rights in pedestrian streets and the saturation of cargo loading and unloading in designated areas. In this context, tricycles had offered an agile, silent, flexible and green alternative to traditional delivery vans.
The pilot scheme was also supported by the use of a micro-distribution platform that managed the interchange of goods. How it works? Logistics operators deliver goods and parcels first thing during the morning to this platform and Vanapedal - the company managing the last-mile delivery handles their transfer to the tricycles for delivery to their final destinations. The logistics operators participating to this pilot were: ASM, DHL, SEUR and TNT. They were trialling this service free of charge.
The micro distribution platform was located in the parking of the North Train Station thanks to the collaboration of SABA (the licensee of this parking lot) and ADIF. This location, at the edge of the access belt of the historical centre of Valencia, reduced the number of vehicles that enter the city centre, thereby reducing traffic in this area whilst minimising negative environmental effects such as noise and pollution resulting from urban freight distribution. 
The trial period enabled the assessment of the technical and economic viability of this distribution model as well as the quantification of the related environmental benefits.                                                                       
Main steps of implementation
Depending on individual context conditions, these may vary significantly. In general terms, effective public-private cooperation revolves around the creation of infrastructure (city port, recharging stations) often regarded as depending on public investment, whereas private companies are called to organize services.
Expected results
Reduced number of trucks on the roads: Reduced congestion in peri-urban areas. Reduced environmental and noise pollution. Reduced need for loading bays (land re-appropriation).
Contribution to SEAP & indicators
CO2 reduction.
How to integrate in SEAP?
Can be included in a SEAP as an Action to reduce CO2 emissions.
Contribution to SUMP & indicators
Pollutants reduction (NOx, SOx, CO, etc.); enhanced intermodality; reduced number of vehicles in urban areas; improved sustainable accessibility to city centres; spur to the development of sustainable mobility.
How to integrate in SUMP?
Dedicated measure responding to several objectives measured with the corresponding set of indicators.
Lessons learned
The involvement of public institutions is essential to foster sustainable city logistics policies and invest in the infrastructure (city ports, charging stations, etc.) to create framework conditions for private ventures.